Meet Conn Garrow.
Outwitting alien races. Escaping from prison. Running a huge business. Surviving assassination attempts.
Engineering impossible rescues. Walking on the moon. And that\'s just book one.
Girl on the Moon
This near-future sci-fi adventure sends humankind back to the moon, this time to make first contact with an inscrutable alien race. And when Earth's new acquaintances become new neighbors, humanity might not be done with the moon yet — and it might not be done with Earth. Fortunately for humankind, it has Conn Garrow.
They said Conn wasn't qualified for astronaut training. To prove herself, all she'll have to do is outwit alien races, escape from prison, run a huge business, survive assassination attempts, engineer impossible rescues — and walk on the moon. Never tell Conn there's something she can\'t do.
Published: February 23, 2016 by Kindle Press (Kindle version) and Combat Haiku Press (paperback)
Also available to read for free with Kindle Unlimited
Girl on Mars
Humankind\'s first interstellar journey–a jaunt to the home system of the Aphelials, a race that threatens humanity\'s very existence–doesn\'t go exactly as planned for Conn and her friend and fellow traveler Yongpo. But the astronauts do manage to gather intelligence that will make history and change the world. It will also set Conn on a path that will lead her to the fourth planet from our Sun. Mars could be the key to the survival of the Earth, and it\'s up to Conn to learn the red planet\'s secrets before the Aphelials arrive in force. She\'ll have to survive the months-long trip and a dangerous landing, be strong, keep her wits, have no fear, and make the right friends. And she\'ll have to hope it\'s all enough to turn back an overwhelmingly powerful and ruthless enemy bent on the annihilation of our entire species.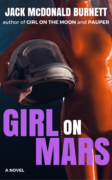 Published: October 24, 2017 by Combat Haiku Press
Also available to read for free with Kindle Unlimited
Interstellar Girl
Conn Garrow, the Girl on the Moon and the Girl on Mars, is now a woman on a mission. The genocide of the human race has been postponed, but we're still in dire jeopardy. Seven of Earth's finest astronauts have been dispatched to planets that may have weathered the Aphelial threat, to search for allies and intelligence in the fight to come. On Earth, efforts to understand the Aphelials are underway, and may lead Conn farther away from home than she, or anyone else, has ever been. Will Conn and humankind be ready for the coming alien onslaught? Amazon readers called Girl on the Moon a realistic, intelligent barn-burner and a thoroughly enjoyable, imaginative, wild ride of a story, and Girl on Mars a fast moving, truly interstellar saga.
Sign up for Jack\'s e-mail list and score a free exclusive short story set in the Girl on the Moon-iverse, \"A Friend on Mars\"!
Whoops, it looks like you forgot to specify a form to display.